June 28, 2014
5:00pm – 7:00pm
at the Old Labor Hall
All are cordially invited to the open house sponsored by the The Barre Historical Society and the Vermont Labor History Society to honor Phil and Joan Hoff at the Old Labor Hall.
The celebration of the Hoffs will feature hors d'oeuvres and light fare by Bon Temps Gourmet. There will be a short program at 6 PM.
The event is open to everyone. There is no admission charge, but a $20 donation is recommended. No reservations are necessary. Proceeds will benefit the Old Labor Hall.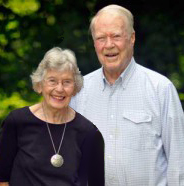 ---
Philip Hoff served as Vermont's governor from 1963 to 1969 and was the state's first popularly elected Democratic governor in 108 years.
According to Vermont Labor History Society president and Barre Historical Society board member Tom Davis, "this will be a 'people's event' honoring two Vermonters whose lives, vision, and achievements have so much to do with the Vermont we are so proud of today." The event will not be political, Davis added.
Many of the progressive advances associated with Vermont began under Hoff's governorship. These included expansion of the State College system, procurement of federal anti-poverty funds and programs, and an environmental agenda that gained national prominence.
Joan Hoff, who, in addition to raising four daughters, participated in each of Phil Hoff's three campaigns, became Chairperson of the State Board of Education after her husband left office.
The Hoffs have also been strong supporters of the Vermont Labor History Society and the Old Labor Hall.