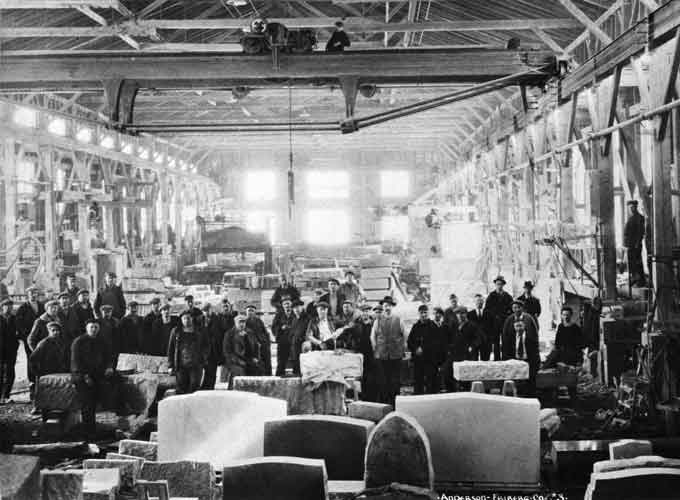 Transcript
Granite was the magnet that started Barre, and it goes back into the mid [18]80s when they were quarrying granite. I'm no expert on the granite business; there's better histories on this than I can give you. They were quarrying granite for mills to grind corn or whatever, and that would probably have been somewhere after the Civil War, around 1870, in that area there.
The Scotch were the first people here, probably, followed by the Yankees, who had to run the stores for the Scotchmen. The Scotch went home oftentimes in the winter. By home I mean back to Scotland. And then the Italians in large numbers, starting in the 1890s, going into 1900, plus. And then along at the same time came pneumatic tools. The ways of carving changed. The ways of quarrying changed.
The North End of Barre was where a significant number of Italian people lived, and there was also a place in the South End, near the high school, where the high school now is, that also had a significant number of Italian people. Sometimes they came from different parts of Italy and didn't always get along, so they didn't want to live near each other.
What overhung everything that went on in Barre, the fact that men who worked in the stone shed died in their early forties, generally, from silicosis. That shaped the environment of Barre. There were a lot of homes where liquor was sold during Prohibition simply because that's the only way the ladies could make a living. And there were rooming houses set up where women could sell rooms rather than to families.
Then, around 1918, I think there was a first influx of French Canadian people. I'm sure they came down in small numbers before, but I think there was a strike in 1918 or thereabouts. So, suddenly the French have a stronger presence and an interest. The Italians, of course, formed their club. They had the Mutuo, the Italian Pleasure . . . . I think it was four or five Italian clubs. The French–the only one I know of is the Canadian Club, but I suspect there were others. And some were church related. Not much is written about, but we had a fairly significant influx of Lebanese and Syrian people that by religion here were mostly Catholic, as far as I can determine.
It was, in effect, a melting pot, absent, of course, black people. We had one black man in town. One, named Lundy–Mr. Lundy, who was a much respected tailor. He had a shop down off of Depot Square. And yet, while his office was on Depot Square, upstairs from the barber shop, which was right on the corner, practically, Mr. Lundy never came downstairs and went into the corner cigar store or interacted with any of the people individually that I saw.
I wrote a story once about Marr's Smoke Shop, down here on the corner where the Quarry Restaurant currently is, and that's where working people used to go there after work. The sheds would close down in Barre around 4 o'clock. A lot of these fellows would go home. They'd eat dinner, and they'd be back downtown by 4:30, so in the summer there was a lot of free time.
The smoke shop was for smokes. It was also for pinball machines, and there was some gambling–baseball gambling tickets that were sold there illegally. It was run by a man I used to call "the mayor of Depot Square," by the name of Howard Marr, a man I had a great affection for.
Marr was a character. He had an opinion on everything. He was loud, boisterous, occasionally profane but never vulgar. He started, originally, a bowling alley across the street in a pool room, which he ran for a while. Then he opened up the smoke shop. But there had been a smoke shop there, I think, even before he was there. The interesting thing is: it wasn't just one smoke shop. There were three smoke shops, all within 50 yards of each other, and they all sold and did about the same thing. Howard used to keep a lot of comic books there, and he didn't care whether the kids read them or not. So the kids come in, and they sit down on the floor, and the kids would be picking up the aura of whatever working people of the time were talking about.
And what they were talking about was how to achieve some of the goals that they, as laborers, felt they were entitled to. But manufacturers would hang around there too, and they would be taking, oftentimes, the other side of the argument. And it was very kind of alive.
People would whisper once in a while, "That guy is a communist." The fact of the matter is Marr, who had papers delivered from all over, ordered three copies of The Daily Worker, which I think was the communist newspaper of that period and maybe still is, and the person pointed out to me was a man who–a very respectable man. He was a granite manufacturer and not a laborer, and it sort of turns the thing upside down. And there were others. There were people of liberal persuasion. But anybody admitting to being a communist . . . I think there were three.
The other thing that was going on while all these people might be in Marr's Smoke Shop, right next door there was a shoe shine stand which was open in good weather. As they used to say, "That's where the Spanish go." And we had a fairly large number of ex-patriots from Spain as a result of the civil war in Spain. And many of them came alone with no families. And so right across Main Street, they were there, as though that section had been partitioned off for their benefit, and they could speak the language they wanted.
But all nationalities were represented, I guess. There were Finnish people. Lebanese. Syrian. Irish, of course. Swedes. And I haven't named them all now, certainly. But all these nationalities existed. Most everyone could speak English. If they couldn't, they generally probably didn't show up on the corner.
Take a summer night on the corner of Depot Square. There would be hundreds of people up and down the street. We had three movie theaters with marquees. I take that back. The Opera House did not have a marquee. But the Magnet Theater, which was 100 yards from Marr's at most, had a marquee, as did the Paramount Theater, which, in earlier times, had been called The Park.
And there were two diners. There were several other restaurants, but there were diners that were open and active in order to pick up that 9 o'clock crowd. That is, when the movies got out. The Opera House occasionally ran a vaudeville show of some kind.  Once in a while we'd have a premier of a movie at the Paramount. I know there were one or two in my time, as there were in Montpelier. And where does it happen? In Barre it happened, for us, on Depot Square.
Tom Davis was a seventeenth generation Vermonter, political activist, public speaker, storyteller, author, and statesman. Also known as "Tom Terrific," he was widely admired for his quick wit, humor, humility, kindness, wisdom, and generosity. He valued tolerance, forgiveness, compassion, and activity and lived his life accordingly.  Tom's Bio and Photo Album →
Interviewing Tom
In 2013, Tom Davis hired me to record his recollections and thoughts. I was serving on the Barre Historical Society (BHS) board with Tom. Years before, I had interviewed him about the early days of skiing in Vermont for the Vermont Historical Society and knew him to be an engaging story teller and welcoming person. At BHS meetings I found him to be committed to Barre, social justice, and working people as well. One night, Tom told me that, after having written three books about Barre and people he had known and worked with (and two political mystery novels), he was, at age 82, tired of writing but had more to say. I was honored when he asked me to interview him and to record his memories.
Tom called our sessions "interviews," but little interviewing was necessary. Tom and I would meet in the conference room at Barre's Aldrich Public Library and, after I'd set up and found a chair for him that didn't squeak and he'd adjusted his hearing aids to prevent feedback, I'd ask a question, and off he'd go, speaking freely, keenly, and with gentle humor, while I mostly just sat and listened.
One session led to another. Eventually I had recorded 25 hours of Tom's recollections about people he'd known, events he'd witnessed and participated in, and changes he'd seen. He also spoke about his love of baseball, skiing, and golf, about the importance of music, and about a world and state that are radically different from the ones he entered in 1931. I found his words illuminating and inspiring, and I admired his deep commitment to Vermont and Barre and, beyond that, to human understanding, fairness, and kindness. It was quickly clear that Tom had a prodigious memory and genuinely cared about the people who had passed through his lifetime of public service—whether a governor, a teacher, a granite worker, or an interviewer.
Tom was also a champion of life-long learning–for himself as well as for others. "Education doesn't begin and end with the benchmarks of man," he told my microphone. "Life is education. I may be wrong, but it seems that I'm never going to be able to catch up with what I need to know."
He also had his peeves, especially partisan politics, income inequality, and the domination of social service programs by office-bound bureaucrats who had little interest in learning directly from the people they purportedly served.
Tom came to his increasingly progressive views without recourse to ideology and despite the leanings of some family and friends. He admired both his Republican father and Franklin Roosevelt and, after a brief flirtation with far-right conservatism while a student at UVM, saw the need for society to stand up for those without voice or opportunity. He was puzzled by people who "could give ten dollars to one man but wouldn't give one dollar to ten men." He, on the other hand, had "never been able to walk by somebody who needs a dollar."
The Recordings
Tom and I discussed what to do with these recordings and decided that a section of the Barre Historical Society's Old Labor Hall Web site would be an appropriate place for audio segments, transcripts, and photographs. Tom had a deep commitment to the Barre Historical Society and to the Socialist Labor Party Hall, which the BHS owns, maintains, and uses for a variety of community and educational events. The generosity of several folks who also want others to be able to benefit from Tom's memories and wisdom has now made that site a reality.
The audio segments and transcriptions on this site have been edited for economy and clarity, while still retaining Tom's warm, thoughtful voice. Some draw on multiple times that Tom spoke about a topic or told a story, and I've tried to edit and weave them into a single narrative. Some of Tom's recollections also appear in his books and in the three commentaries he recorded for Vermont Public Radio in the months before his death.
The complete 25 hours of interviews also cover much more territory, and new segments may appear in the future. Unfortunately, we never got to some topics, including golf, skiing, and chess–three of Tom's great passions. At some point, we hope that the full transcript will also be available, whether on this site or through a suitable archive.
It has been a pleasure and honor to work on this project. Tom Davis enriched my life. I hope he will contribute to yours as well.
Mark Greenberg, Montpelier VT, April 2020

Tom talks about life in his home town of Barre, Vermont.
Tom talks about his family.
The politicians Tom knew and worked for and the programs he helped them implement
Tom talks about his love of baseball.
A Bunch of White Guys
Tom at the University of Vermont
Recommended Reading

Beyond Depot Square: Stories from the Heart of Vermont, self-published, 2006
Echoes of Vermont . . . People and Politics in the Green Mountains, self-published, 2010
Out from Depot Square: Central Vermont Memories from the 1930s to the 1950s, self-published, 2006
The Duval Conspiracy, Marshall Jones Company, 1995
The Governor's Man, self-published, 2002
By others:
Deane C. Davis, with Nancy Price Graff – Deane C. Davis: An Autobiography, The New England Press, 1991
Michael Sherman, Gene Sessions, Jeffrey Potash – Freedom and Unity: A History of Vermont, Vermont Historical Society, 2004
Paul Heller – Granite City Tales: Writings on the History of Barre, Vermont, self-published, 2012
Russell Belding – Hidden History of Barre, Vermont, The History Press, 2011
Many thanks to the people who helped make this project possible:
Gerry Ghazi, Alban Richey, Arthur & Anita Ristau, Bruce Seifer, Carol Healy, Clare & David Duke, David & Nancy Lacroix, Edith A Miller, Elizabeth Slayton, Ellen S. Sivret, Fernand & Ann Peloquin, Joanne Granai, Karen Lane, Marjorie Power, Mary Miller, Maureen Morton, Maurice & Doris Fortier, Paul C Heller, Peter Anthony & Marsha Kincheloe, Quinn Premont, River Valley Workforce Institute, Ruth Ruttenberg, Stephen Martin, Wayside Restaurant, Inc., William & Olene Doyle, and the Aldrich Public Library
Credits:
Project & Web site producer: Mark Greenberg
Web site design and implementation: Marjorie Power
Interviews recorded and edited by Mark Greenberg/Upstreet Productions
Interview transcriber: Katherine Drury
Photos:
Davis family photographs and memorabilia courtesy Mike Davis and the Davis family
Tom Davis Labor Hall photo: Mark Greenberg
Aldrich Public Library, Vermont Historical Society, World Wide Web