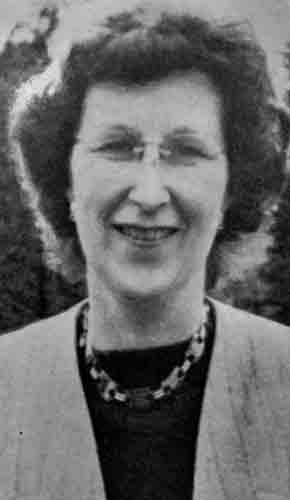 Transcript
My mother's family was a little different. All I know is that she came from a fairly well-to-do family in New York. They bought a farm in Waterbury Center.
My grandmother hated farming—didn't eat didn't eat meat, didn't want to see chickens die. So whatever chances she had of marriage there she didn't accept. She married a man named Eastman, from Fairlee, Vermont, who built the Eastman Block down here on the corner, he and his brother. He built a great big house up on the corner up here and then died.
My grandmother had two small children, my aunt and my mother, age 3 and 1, I think. And probably had some funds. They sold the big house on the corner. And there was a barn next door, and they made the barn into a house.
My grandmother remarried a printer. In those days printers were common. And he became a banker, Tom Cave. He later became state treasurer. He was born in England. I don't know anything more about him than that, other than I used to go fishing with him when I was a kid. And I regret not pursuing the many questions that come to mind years later (laugh), you know.
My grandmother and my mother lived close together upon a hill. And people that lived up on the hill generally might be middle-class or in some cases upper middle-class professionals.
My mother played the piano—could play anything by ear. All she had to do was hear it, and she could play it. And she was very good. My sister could almost do the same thing, but she also was trained musically and went to Oberlin for a couple of years and still plays the piano in nursing homes at age 85. So she seems to have hung onto it.
And In those days, when people didn't have anything to do, my mother would play the piano and people would gather around the piano and sing. I'm talking about just the family, sometimes. Occasionally one or two others. And occasionally people would come to the house, and that same thing would be done. My mother also accompanied vocalists who were singing in the city, not necessarily famous. But she performed in that way as an accompanist, and my sister in later years also became a very proficient accompanist.
My mother was more liberal than my father. I think in the Methodist church at the time, there was a bishop of some sort. They called him the "Red Bishop." He was hardly very red, but that was what they called him. And to some of the conservative Methodists, he was too far to the left in the political arena and followed what I think they called the "Social Doctrine," or something like that. I'm not a church expert.
In those days, the homeless were called "hobos", and they came to your door. And sometimes they would sharpen your knives, and we would feed them. We always fed them and sometimes paid them something for whatever they did. And both my father and mother concurred that that's what you're supposed to do.
My mother would not buck my father on political issues. But she was on the left as far as social issues.
Tom Davis was a seventeenth generation Vermonter, political activist, public speaker, storyteller, author, and statesman. Also known as "Tom Terrific," he was widely admired for his quick wit, humor, humility, kindness, wisdom, and generosity. He valued tolerance, forgiveness, compassion, and activity and lived his life accordingly.  Tom's Bio and Photo Album →
Interviewing Tom
In 2013, Tom Davis hired me to record his recollections and thoughts. I was serving on the Barre Historical Society (BHS) board with Tom. Years before, I had interviewed him about the early days of skiing in Vermont for the Vermont Historical Society and knew him to be an engaging story teller and welcoming person. At BHS meetings I found him to be committed to Barre, social justice, and working people as well. One night, Tom told me that, after having written three books about Barre and people he had known and worked with (and two political mystery novels), he was, at age 82, tired of writing but had more to say. I was honored when he asked me to interview him and to record his memories.
Tom called our sessions "interviews," but little interviewing was necessary. Tom and I would meet in the conference room at Barre's Aldrich Public Library and, after I'd set up and found a chair for him that didn't squeak and he'd adjusted his hearing aids to prevent feedback, I'd ask a question, and off he'd go, speaking freely, keenly, and with gentle humor, while I mostly just sat and listened.
One session led to another. Eventually I had recorded 25 hours of Tom's recollections about people he'd known, events he'd witnessed and participated in, and changes he'd seen. He also spoke about his love of baseball, skiing, and golf, about the importance of music, and about a world and state that are radically different from the ones he entered in 1931. I found his words illuminating and inspiring, and I admired his deep commitment to Vermont and Barre and, beyond that, to human understanding, fairness, and kindness. It was quickly clear that Tom had a prodigious memory and genuinely cared about the people who had passed through his lifetime of public service—whether a governor, a teacher, a granite worker, or an interviewer.
Tom was also a champion of life-long learning–for himself as well as for others. "Education doesn't begin and end with the benchmarks of man," he told my microphone. "Life is education. I may be wrong, but it seems that I'm never going to be able to catch up with what I need to know."
He also had his peeves, especially partisan politics, income inequality, and the domination of social service programs by office-bound bureaucrats who had little interest in learning directly from the people they purportedly served.
Tom came to his increasingly progressive views without recourse to ideology and despite the leanings of some family and friends. He admired both his Republican father and Franklin Roosevelt and, after a brief flirtation with far-right conservatism while a student at UVM, saw the need for society to stand up for those without voice or opportunity. He was puzzled by people who "could give ten dollars to one man but wouldn't give one dollar to ten men." He, on the other hand, had "never been able to walk by somebody who needs a dollar."
The Recordings
Tom and I discussed what to do with these recordings and decided that a section of the Barre Historical Society's Old Labor Hall Web site would be an appropriate place for audio segments, transcripts, and photographs. Tom had a deep commitment to the Barre Historical Society and to the Socialist Labor Party Hall, which the BHS owns, maintains, and uses for a variety of community and educational events. The generosity of several folks who also want others to be able to benefit from Tom's memories and wisdom has now made that site a reality.
The audio segments and transcriptions on this site have been edited for economy and clarity, while still retaining Tom's warm, thoughtful voice. Some draw on multiple times that Tom spoke about a topic or told a story, and I've tried to edit and weave them into a single narrative. Some of Tom's recollections also appear in his books and in the three commentaries he recorded for Vermont Public Radio in the months before his death.
The complete 25 hours of interviews also cover much more territory, and new segments may appear in the future. Unfortunately, we never got to some topics, including golf, skiing, and chess–three of Tom's great passions. At some point, we hope that the full transcript will also be available, whether on this site or through a suitable archive.
It has been a pleasure and honor to work on this project. Tom Davis enriched my life. I hope he will contribute to yours as well.
Mark Greenberg, Montpelier VT, April 2020

Tom talks about life in his home town of Barre, Vermont.
Tom talks about his family.
The politicians Tom knew and worked for and the programs he helped them implement
Tom talks about his love of baseball.
A Bunch of White Guys
Tom at the University of Vermont
Recommended Reading

Beyond Depot Square: Stories from the Heart of Vermont, self-published, 2006
Echoes of Vermont . . . People and Politics in the Green Mountains, self-published, 2010
Out from Depot Square: Central Vermont Memories from the 1930s to the 1950s, self-published, 2006
The Duval Conspiracy, Marshall Jones Company, 1995
The Governor's Man, self-published, 2002
By others:
Deane C. Davis, with Nancy Price Graff – Deane C. Davis: An Autobiography, The New England Press, 1991
Michael Sherman, Gene Sessions, Jeffrey Potash – Freedom and Unity: A History of Vermont, Vermont Historical Society, 2004
Paul Heller – Granite City Tales: Writings on the History of Barre, Vermont, self-published, 2012
Russell Belding – Hidden History of Barre, Vermont, The History Press, 2011
Many thanks to the people who helped make this project possible:
Gerry Ghazi, Alban Richey, Arthur & Anita Ristau, Bruce Seifer, Carol Healy, Clare & David Duke, David & Nancy Lacroix, Edith A Miller, Elizabeth Slayton, Ellen S. Sivret, Fernand & Ann Peloquin, Joanne Granai, Karen Lane, Marjorie Power, Mary Miller, Maureen Morton, Maurice & Doris Fortier, Paul C Heller, Peter Anthony & Marsha Kincheloe, Quinn Premont, River Valley Workforce Institute, Ruth Ruttenberg, Stephen Martin, Wayside Restaurant, Inc., William & Olene Doyle, and the Aldrich Public Library
Credits:
Project & Web site producer: Mark Greenberg
Web site design and implementation: Marjorie Power
Interviews recorded and edited by Mark Greenberg/Upstreet Productions
Interview transcriber: Katherine Drury
Photos:
Davis family photographs and memorabilia courtesy Mike Davis and the Davis family
Tom Davis Labor Hall photo: Mark Greenberg
Aldrich Public Library, Vermont Historical Society, World Wide Web